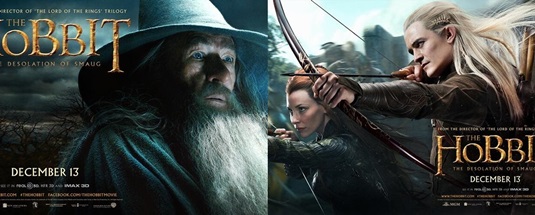 Warner Bros. has released the second The Hobbit: The Desolation of Smaug trailer giving you the latest look at the middle film in Peter Jackson's Hobbit trilogy along with two new banners.
Jam-packed with action, a brand new trailer gives more of a taste of what Bilbo Baggins (Martin Freeman) and his cohort of dwarves will find as they head toward the Lonely Mountain to get the gold back from the dragon, including Legolas (Orlando Bloom) and Tauriel's (Evangeline Lilly) love affair, of course.
Sadly, the new trailer focuses less on the dragon Smaug, which will be voiced by Benedict Cumberbatch, but there's a lot to see in this new promo, so we'll leave you to do just that.
The film also stars Ian McKellan, John Bell, Jed Brophy, Adam Brown, John Callen, Stephen Fry, Ryan Gage, Mark Hadlow, Peter Hambleton, Stephen Hunter, William Kircher, Sylvester McCoy, Graham McTavish, Michael Mizrahi, James Nesbitt, Dean O'Gorman, Mikael Persbrandt, Ken Stott, and Aidan Turner.
The Desolation of Smaug opens in 3D, 2D and IMAX theaters on December 13th, 2013. The trilogy's conclusion, The Hobbit: There and Back Again, is set to be released on December 17th, 2014.