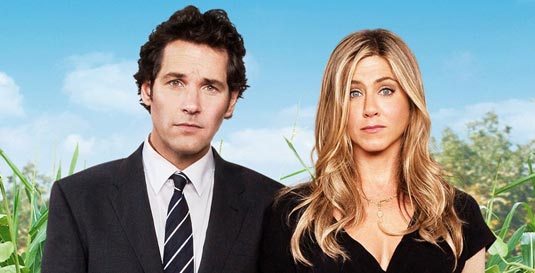 You better hurry up and check this new poster for Wanderlust because the movie opens tomorrow!
Looks like an interesting comedy from director David Wain, but I guess we're all interested in this project because we have Jennifer Aniston and Paul Rudd as an overextended, stressed out Manhattan couple.
The rest of the cast also looks promising – Justin Theroux, Malin Akerman, Kathryn Hahn, Lauren Ambrose, Ken Marino, Joe Lo Truglio, Kerri Kenney-Silver and Alan Alda are all on board!
After George is downsized out of his job, they find themselves with only one option: to move in with George's awful brother in Atlanta. On the way there, George and Linda stumble upon Elysium, an idyllic community populated by colorful characters who embrace a different way of looking at things.
Money? It can't buy happiness. Careers? Who needs them? Clothes? Only if you want them.
Is Elysium the fresh start George and Linda need? Or will the change of perspective cause more problems than it solves?
We'll find out tomorrow!