Yeah, her name is familiar to all of us.
Noomi Rapace
is a girl who played the title character Lisbeth Salander, in the 2009 Swedish film based on the award-winning crime novel by
Stieg Larsson
,
The Girl with the Dragon Tattoo
(Män som hatar kvinnor).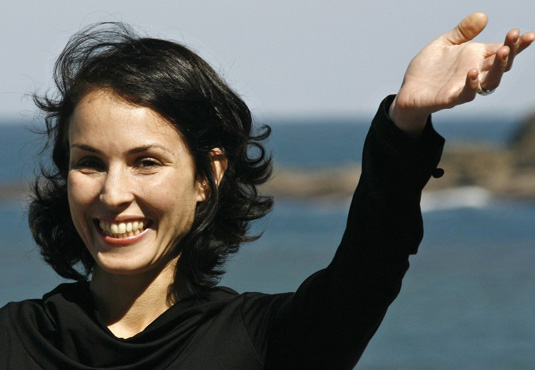 Noomi Rapace
And yes, some of us actually thought she could be the perfect Lisbeth for
David Fincher
's upcoming English version of this story. Ok, that's not going to happen, since
it's already confirmed
that
Rooney Mara
is next troubled-brilliant hacker, but that doesn't mean Rapace is out of question when it comes to Hollywood, because it looks that she's here to stay! Noomi Rapace arrived in Los Angeles during the weekend where she met filmmakers
McG, Joe Roth, Brett Ratner
and
Ridley Scott
, as well as various producers, like
Avi Arad
and
Lorenzo Di Bonaventura
. Smart choice for this 30-years old actress indeed! She took herself out of the running for the remake, deciding to broaden her portfolio by breaking into the American film scene in a new role. According to
Deadline
, Greg Silverman wants her for
Sherlock Holmes 2
, and Marc Evans approaches her for
Mission: Impossible IV
. Details of the roles are not mentioned, but Rapace is expected to be back to Hollywood next week to meet again with Silverman and Mission: Impossible IV director
Brad Bird
. Rapace could join the cast of other projects slike Brad Fischer's
The Last Voyage of the Demeter
, Jon Amiel's next reportedly titled
Masterwork
, James McTeigue's
The Raven
, Tommy Wirkola's
Hansel and Gretel: Witch Hunters
, and McG's
This Means War
. It's interesting that for McG's romantic comedy Rapace is offered a villain role. Nothing is official, of course, but we'll wait for some great news and good role for Noomi Rapace. And we definitely have no doubt in her talent! She received not only an international acclaim for her performance, but earned herself a Best Actress Guldbagge (the Swedish equivalent of the Oscar) for her performance in The Girl With the Dragon Tattoo as well.
Good luck Rapace!