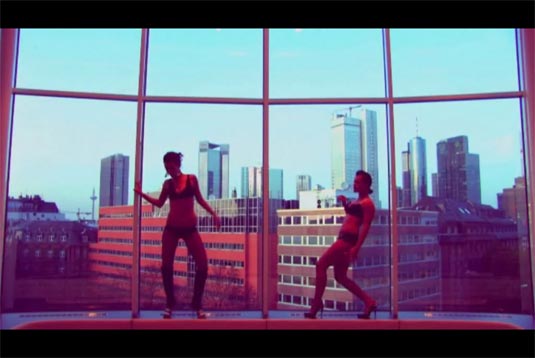 A NSFW movie trailer for Showgirls 2, a sequel to Paul Verhoeven's controversial and widely panned 1995 cult film, is now online. The sequel's link to the original film is a very minor character named Hope, once played by Rena Riffel. In theory this followup is a movie about stripper who died from a dose of contaminated cocaine. Her brother comes to Frankfurt to find the responsible and revenge. Showgirls 2 is directed and writen by Marc Vorlander. Here is part of the interview with Vorlander that made TheStranger.com: What inspired you to create a sequel to Showgirls?
MARC VORLANDER: I love Showgirls. It is Paul Verhoeven's finest work. Yes, yes, I know a lot of people are now laughing, but I'm very serious about it. I take Showgirls very seriously! To understand Showgirls, you have to know the European films of Paul Verhoeven. This film is a multilayered masterpiece—a dark satire of show business and also a dark mirror of Verhoeven's roots. For me it's one of the most misunderstood classics. Beside the bad reviews at the beginning, it is one of the most successful blockbusters of all times with a total gross of more than $180,000,000 within 15 years. I dreamed about doing a follow up already in 1996 when I first saw it, but a sequel is not exactly my intention—my film is rather a reload of the Showgirls theme.
Will Showgirls 2: The Story of Hope be a German-language film?
MARC VORLANDER:We are shooting in German, yes. The first Showgirls was shot in the US, produced by Frenchmen, directed by a Dutch; it fits to film in Germany this time.
What should viewers expect from Showgirls 2: The Story of Hope?
MARC VORLANDER: More nudity. Brutal action. A great soundtrack. A bold style that never was before. On our website you can't see a teaser trailer – all material is from test shootings that I did this summer in Las Vegas and Frankfurt…, so many people liked it so much, that we decided to publish it. Perhaps I will use it in the final film, because of the good reactions to it. My soundtrack is produced by David May ("Superstar" # 29 US-Billboard Charts, producer of Laura Brannigan) and his partner Mow Marchionna. I'm very happy with it, because the quality is outstanding. Showgirls: The Story of Hope is a pop-musical as well and David will appear in a cameo role. In my opinion it's the best pop soundtrack of the decade. My debut will shock the audience, in one way or in an other…and I will not appear at the Razzie Awards in person like Verhoeven!