Nicolas Winding Refn's upcoming crime thriller Only God Forgives brings out the violent side in Ryan Gosling, which he showed off so well in Drive. The second collaboration between Gosling and Refn features fist pounding, bullet-riddled action and, … karaoke. Gosling stars as Julian, the owner of the Thai boxing club which serves as a front for his family's drug-smuggling operation. Now we've got a new Red Band trailer from a violent revenge-thriller 'western' set in Bangkok. Kristin Scott Thomas co-stars as Gos character's mother Jenna, described as a merciless and terrifying mafia godmother. Refn told last year that,
It's a stream of consciousness. It's based on real emotions but set in a heightened reality. It's a fairy tale.
Gosling added, in case there were any doubt,
It's very extreme. It's part of the same dream as Drive… it's more of a nightmare than a dream but it's more extreme.
Only God Forgives lands in US theaters on May 23rd, 2013. Check it out, but be aware that it does contain adult content.
Julian (Gosling) lives in exile in Bangkok where he runs a Thai boxing club as a front for the family's drugs smuggling operation. When Julian's brother Billy is killed their mother, Jenna (Kristen Scott Thomas), arrives in the city. She wants revenge and forces Julian to find the killer. Julian's contacts in the criminal underworld lead him directly to The Angel of Vengeance, a retired police officer who knows everything and who is both Judge and Punisher. Jenna demands that Julian kill The Angel of Vengeance, an act that will cost him dearly.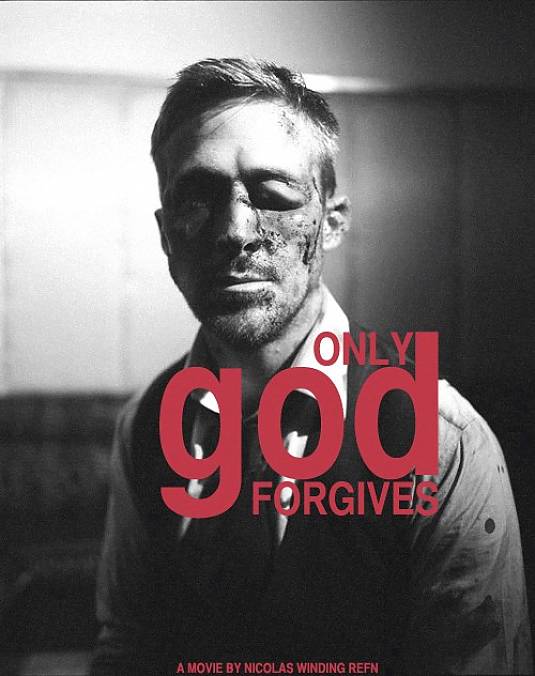 Only God Forgives Poster