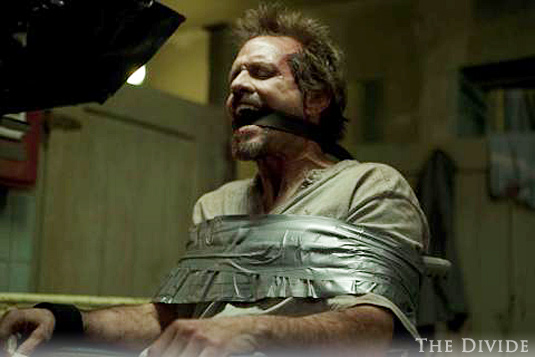 Today we have a 90-second opening scene from director Xavier Gens' (Hitman, Frontier) new thiriller The Divide (formerly The Fallout), which is making its debut in Austin during SXSW.
When a mysterious cataclysmic bomb devastates New York, eight strangers take refuge in the basement of their apartment building. The residents soon succumb to cabin fever as fear of sickness, dwindling supplies, and ruthless outside invaders, plays on their mind. However Eva, the only young woman, has her own worries as the men begin to regress into dangerous packs. She quickly learns to be ruthless if she wants to survive, aware that her sanctuary is becoming her hell. Will her survival ultimately be at the expense of her humanity?
The Divide was written by first-time feature writers Karl Mueller and Eron Sheean. The ensemble cast includes Michael Biehn, Milo Ventimiglia, Lauren German, Rosanna Arquette, Courtney B. Vance, Michael Eklund, Ivan Gonzalez, Ashton Holmes, and Abbie Thickson.