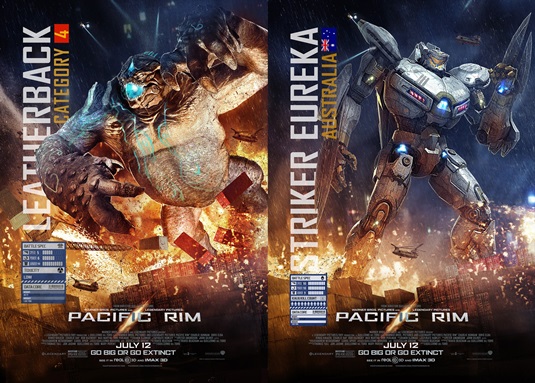 With a massive ad campaign that
Pacific Rim
has already launched, its latest blitzkrieg continues with new posters and two new international TV spots for Guillermo del Toro's upcoming action-adventure movie.
Pacific Rim
blockbuster will soon hit 3D, IMAX 3D and 2D theaters. We already learned that Kaiju is Japanese for 'giant monsters' and these giant alien monsters are intent on destruction – San Francisco is first to go, then Manila. On the other side, Jaegers – robots that match the size of the monsters – take on the Kaiju and make a pretty good fist of it, but the Kaiju keep coming, so mankind is 'losing Jaegers faster than we can make them,' says the voiceover. There is only 'one last chance.' Head inside to take another look at the 'giant robots vs giant monsters' movie.
Starring
Charlie Hunnam
as Raleigh Antrobus,
Idris Elba
as General Stacker Pentecost,
Rinko Kikuchi
as Mako Mori,
Charlie Day
as Newt Gotlieb,
Ron Perlman
as Hannibal Chow,
Clifton Collins Jr.
as Tendo Choi,
Max Martini
as Herc Hansen and
Robert Kazinsky
as Yancy Antrobus,
Pacific Rim
opens on July 12th, 2013.
Plot summary:
When legions of monstrous creatures, known as Kaiju, started rising from the sea, a war began that would take millions of lives and consume humanity's resources for years on end. To combat the giant Kaiju, a special type of weapon was devised: massive robots, called Jaegers, which are controlled simultaneously by two pilots whose minds are locked in a neural bridge. But even the Jaegers are proving nearly defenseless in the face of the relentless Kaiju. On the verge of defeat, the forces defending mankind have no choice but to turn to two unlikely heroes—a washed up former pilot (Charlie Hunnam) and an untested trainee (Rinko Kikuchi)—who are teamed to drive a legendary but seemingly obsolete Jaeger from the past. Together, they stand as mankind's last hope against the mounting apocalypse.