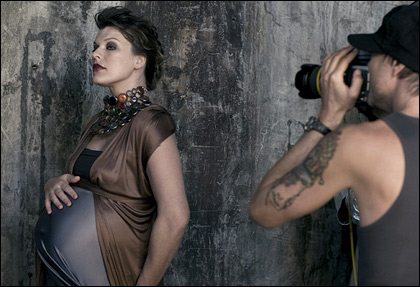 'Palermo Shooting' premieres on Saturday, the day before the winner of the festival's coveted Palme d'Or is announced Wim Wenders, who won the Palme d'Or for his 1984 movie, "Paris, Texas," is to screen "The Palermo Shooting," a romantic thriller with a multilingual, multinational cast, Dennis Hopper, Giovanna Mezzogiorno and Milla Jovovich.
As a successful photographer of world-wide renown, Finn leads a life that is as prominent as it is hectic. He gets by with very little sleep, his cell phone is never still, and the music from his headphones is his most constant companion.
But when his life suddenly spins out of control, Finn takes off and leaves everything behind. His journey leads him from Düsseldorf to Palermo. There he finds himself persecuted by a mysterious shooter who's
after him with a vengeance. At the same time a whole new life is beginning for Finn. And a great love… Campino, singer with German punk band Die Toten Hosen, stars as Finn, a photographer from Dusseldorf. Here he is shown capturing model Milla Jovovich (she plays herself), who was actually pregnant during filming. At the start of the film, Finn is shown to be a photographer of some renown, but as his life starts to unravel he decides to leave all the success behind.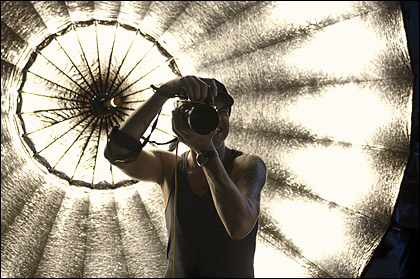 On his journey into the unknown, he finds himself tracked by a mysterious assassin and encounters the ominous Frank, played by Dennis Hopper, who warns him that death is not far away.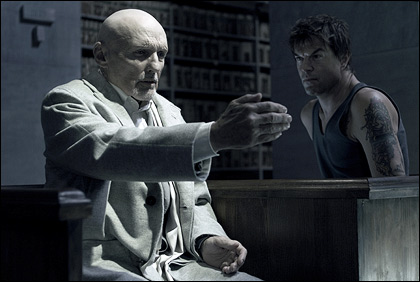 Finn's destination is Palermo, where he meets the beautiful Flavia (Giovanna Mezzogiorno). In Sicily's capital, Finn and Flavia fall in love and Finn begins a new life, with renewed hope.
You were really down to the wire getting this movie ready for Cannes. Is it finished?
WENDERS: I finished the end credits Monday night and had the final version delivered Wednesday. It's been a little nerve wracking. We knew that we were going to be late, and that's one of the reasons we are at the very end of the festival. When we watched the opening of the festival on television we were in the medium stage of mixing. It was close.
"Palermo Shooting" is the first film you've shot in Germany since 'Faraway, So Close!' 15 years ago and the first you've ever shot in your hometown of Dusseldorf. What brought you back?
WENDERS: Yes, I've never shot a film in my hometown, except for shooting some Super 8 as a kid. Partly it was my choice of lead actor. Campino is from Duesseldorf and he is a true Duesseldorfer and a local hero, because his band — the Toten Hosen — are the biggest rock band in Germany and they are from Duesseldorf. I wrote the story for Campino. Having in mind that he is not a professional actor, at least not before the film, although now he is. All we'd ever done together was shoot a music video. But I knew he had a very enigmatic presence. Nobody knows him as an actor but he is exactly the kind of character I had in mind to play this photographer. I wanted the actor to be from Duesseldorf, because Duesseldorf is the home of all the great contemporary photographers in Germany. The Duesseldorf school is the great German post-war photography school. My hero, being a photographer, had to be from Dusseldorf.
Place and architecture always play a major role in your films. What was it like to shoot your hometown?
WENDERS: The strange thing in filmmaking is that places you know best are the hardest to shoot, and I usually go to places that I did not know like San Francisco or Lisbon or Tokyo or, now, Palermo. As a foreigner, a stranger, you see places better than you would if you lived there. At least that's my theory. It is very difficult to see something that is so close to your heart. If you spend your childhood at the river Rhine and you come back 50 years later, it is hard to think of the river Rhine without seeing your own childhood and without thinking about your own childhood. And I didn't want to make a film about my hometown. I wanted to make a film about photography and about all the questions that contemporary photographers are exposed to and the one that they are most exposed to is the question of truth. There's no other profession that is facing the question of truth as photographers.
"Palermo Shooting" is a thriller. You've often played with genre elements in your films, something that is becoming de rigueur among many art house directors.
WENDERS: I've always played with genres, especially with the thriller — with "American Friend" or "The End of Violence." I've never been able to make a film inside that genre, though and "Palermo Shooting" is not a film that stays inside the boundaries. It is very hard to stay inside the boundaries of a genre film; I admire people that are able to do that. I just don't have the discipline. What I like about genres is that you can play with expectations and that there are certain rules that you can either obey or work against. But genres are a funny thing. They're heaven and they're hell. They help you to channel your ideas and they are helpful to guide the audience, but they don't help you in what you want to transport other than the genre itself. Genres get angry if you want to tell other stories — because they are sort of self-sufficient. They like to be the foreground. Then it becomes difficult, because in my case I want to tell all sorts of stories. But my next film will be a genre movie. Full on. It will be a horror film. It is going to be very exciting. Horror is one genre that is used much less than others to transport other things. Lots of people have used great thrillers to transport political messages but the horror film is rarely used to transport anything but fear. And that I think makes it very interesting to try. It's called "Miso Soup" and is based on a famous Japanese novel. Willem Dafoe is attached to star. We will shoot in Tokyo next spring. But I'm not telling you anything else.
Interview from:
HollywoodIndustry