Movie News
Pedro Almodovar Still Young To Make A Sci-Fi Movie
Pedro Almodovar appeared at the London-based BAFTA last night to present the annual David Lean Lecture and spoke of being inspired by films of the Fifties such as Invasion of the Body Snatchers. Spanish writer-director told Sunday:
I am still young enough to make a science fiction movie. I have ideas for this genre. The way I would like to do it is present something impossible in a real, domestic way. One of the scripts on my desk is of that genre, so I hope to make that.
As he didn't give a timeframe, it turns out that we're going to have to wait a little bit longer. He said:
I live with my stories for many years. I write more like a novelist than a screenwriter.
The Skin I Live In, voted best film in the foreign language this year, moves across many genres, and is all at once melodrama, horror, sci-fi and comedy, so in fact this film brings Almodovar first foray into the sci-fi genre. Almodovar is currently editing his next feature, a witty comedy entitled I'm So Excited, set almost entirely on a plane and he expects to complete it next month.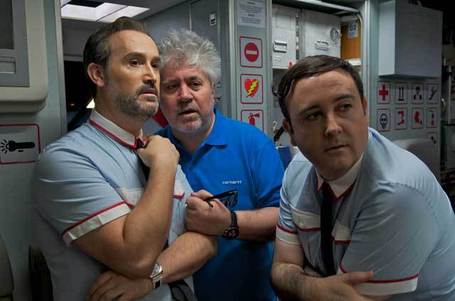 Source: Variety