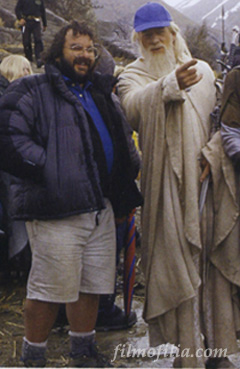 Director Peter Jackson, MGM CEO Harry Sloan and New Line Cinema Co-CEOs Bob Shaye and Michael Lynne have jointly announced today that they have entered into a series of agreements regarding "The Lord of the Rings" franchise. Now that Jackson and New Line have settled all litigation relating to the "LOTR" trilogy, MGM and New Line will co-finance and co-distribute "The Hobbit" and its sequel. New Line plans to distribute in North American, while MGM will handle international rights. "
I'm very pleased that we've been able to put our differences behind us, so that we may begin a new chapter with our old friends at New Line,
" said Jackson. "
'The Lord of the Rings' is a legacy we proudly share with Bob and Michael, and together, we share that legacy with millions of loyal fans all over the world. We are delighted to continue our journey through Middle Earth. I also want to thank Harry Sloan and our new friends at MGM for helping us find the common ground necessary to continue that journey.
" At this point, Jackson has not been named as the director, but simply as an executive producer on the two films, which will be shot simultaneously. Pre-production is scheduled to begin as soon as possible, with principal photography tentatively set for a 2009 start. The goal is to have "The Hobbit" in theaters by 2010 and its sequel the following year. Based on J.R.R. Tolkien's book, "The Hobbit," which is a prelude to "The Lord of the Rings." The story is of Bilbo Baggins, a hobbit, who wanted to be left alone in quiet comfort. But the wizard Gandalf came along with a band of exhiled dwarves. Soon Bilbo was drawn into their quest, facing evil orcs, savage wolves, giant spiders, and worse unknown dangers. Finally, it was Bilbo, alone and unaided, who had to confront the great dragon Smaug, the terror of an entire countryside.