Movie Photos
Pirates of the Caribbean 4: Johnny Depp as Captain Jack Sparrow First Look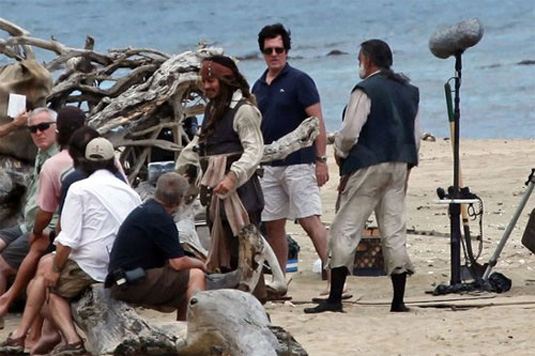 We saw Blackbeard ship photos in the first place. And Finally here's our first look at Johnny Depp as Captain Jack Sparrow, if we can say that's the first look. He's the same old famous Captain.
So, take a look at first set photos from shooting Pirates of the Caribbean: On Stranger Tides at Hawaii.
Check out the official synopsis: "Pirates of the Caribbean: On Stranger Tides: captures the fun, adventure and humor that ignited the hit franchise – this time in Disney Digital 3D(TM).
In this action-packed tale of truth, betrayal, youth and demise, Captain Jack Sparrow crosses paths with a woman from his past (Penelope Cruz), and he's not sure if it's love-or if she's a ruthless con artist who's using him to find the fabled Fountain of Youth.
When she forces him aboard the Queen Anne's Revenge, the ship of the formidable pirate Blackbeard (Ian McShane), Jack finds himself on an unexpected adventure in which he doesn't know who to fear more: Blackbeard or the woman from his past."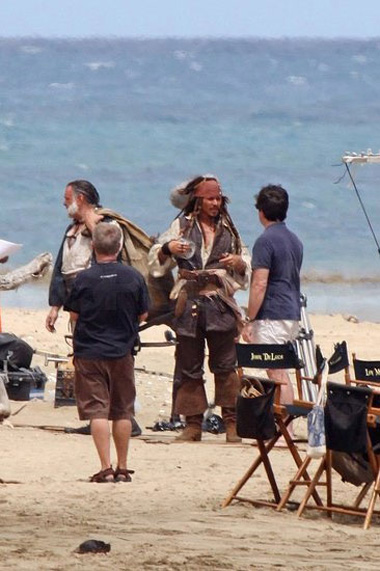 Rob Marshall is directing Pirates of the Caribbean 4 based on the script written by Terry Rossio and Ted Elliott. The executive producers are Mike Stenson, Chad Oman, Barry Waldman, Ted Elliott, Terry Rossio and John DeLuca.
Movie also stars Ian McShane as Blackbeard, Penelope Cruz as Blackbeard's daughter, Geoffrey Rush as Captain Barbosa, Kevin R. McNally as Captain Jack's longtime comrade Joshamee Gibbs, Stephen Graham, Astrid Berges-Frisbey as a mysterious mermaid, Max Irons and Gemma Ward.
We are curious about Penelope Cruz, her costume and look as well. We are impatient and expect to see more photos from the set. So stay with us
At the end, let us remind you that Pirates of the Caribbean: On Stranger Tides comes to theaters May 20th, 2011.