Movie News
Pirates of the Caribbean: On Stranger Tides In 2011
Disney has finally announced the fourth installment of "Pirates Of The Caribbean." Film number-four will be titled "Pirates of the Caribbean: On Stranger Tides" and it will be released in the summer of 2011.
The company made the announcement with Johnny Depp at the D23 Expo. Johnny Depp, who plays Captain Jack Sparrow, sailed onstage in a pirate ship. He staggered around the stage before hugging Walt Disney Studios chairman Dick Cook, who told the audience of 5,000 fans about the next instalment.
Guys over at Cinematical have some interesting information. Actually, there is a novel called "On Stranger Tides" about pirates written by Tim Powers.
"On Stranger Tides" is a fantasy book that won the Locus Award for Best Fantasy Novel in 1988 and was also nominated for The World Fantasy award.
In the book, originally published in 1988, the main character is also named Jack (Shandy) who tries to find the Fountain of Youth which was rumored title of the fourth installment.
"On Stranger Tides" Plot summary from Amazon: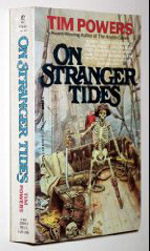 "World Fantasy Award–winner Powers (Three Days to Never) demonstrates a precise control of complex narratives in this reprint of his rollicking and enchanting 1987 novel. Puppeteer John Chandagnac, bound for Jamaica to recover stolen money from his uncle, becomes Jack Shandy after pirates attack his ship and force him to join their crew. Shandy's struggle to accept his new life grounds the story for readers, even as Blackbeard and vodun magicians whisk everyone away to dreamlike lands where the Fountain of Youth itself awaits.
The chaotic sea battles sing, though at times key events happen so quickly that they get lost in the shuffle as Jack tries to comprehend where he's going and what's at stake. This dark fantasy tale will appeal not just to pirate fans but also to anyone who appreciates Powers's talent for blending the most unlikely elements into a brilliantly cohesive whole." – From Publishers Weekly
"Powers writes action and adventure that Indiana Jones could only dream of…Keeps you reading for the joy of it." – The Washington Post
" … Tim Powers is the apostle of gonzo history, and On Stranger Tides is as good as story-telling ever gets. He has found a way to bring together powerful Indian magic, black vodun, a British scientist driven mad with grief over his wife's death, and Blackbeard himself, determined to live forever. Opposing them all is John Chandagnac, a one-time puppeteer who has come to the Caribbean to confront the uncle who cheated John's father out of his rightful inheritance. Captured by pirates, John finds himself rechristened Jack Shandy; he also finds that his old skill as a puppeteer can save his life. – From the Back Cover
" … Powers writes in a clean, elegant style that illuminates without slowing down the tale. The story promises marvels and horrors, and delivers them all. You'll love the characters, you'll stay awake all night reading it, and when you finally do sleep, you'll find this story playing through your dreams." – Orson Scott Card, from Hatrack.com
Let us know what you think in the comments…
[youtube]http://www.youtube.com/watch?v=9Qh5LrQNZZg&feature[/youtube]