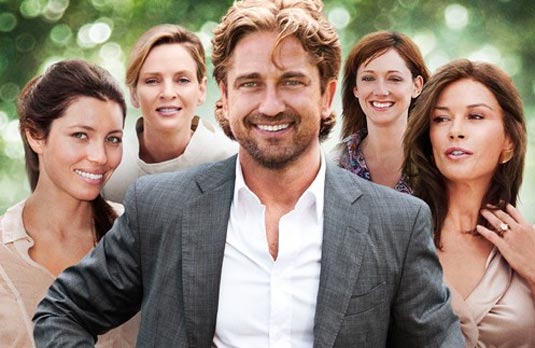 We have added the first poster for FilmDistrict upcoming comedy/drama
Playing For Keeps
, starring Gerard Butler and centers on a former professional athlete coaching his son's soccer team but who finds himself in hot water after some of the local mothers take a little too much of a shine to him (and he to them). Here's the synopsis from the film:
PLAYING THE FIELD kicks off with the homecoming of George (Gerard Butler), a retired soccer pro whose glory days are behind him. Burnt out on his playboy lifestyle and bankrupted by a string of bad investments, George moves back to Virginia to reconnect with his estranged ex-wife (Jessica Biel) and neglected son (Noah Lomax). Making up for lost time, George starts to coach the boys' soccer team. But can he keep his eyes on the goal when the bleachers are stacked with sexy soccer moms and desperate housewives?
The ensemble cast also includes Catherine Zeta-Jones, Uma Thurman, and Dennis Quaid. The film is directed by Gabriele Muccino, whose credits include the Will Smith-starrers,
Seven Pounds​
and
The Pursuit of Happyness
.
Playing For Keeps
will be released to theaters on December 7th, 2012.