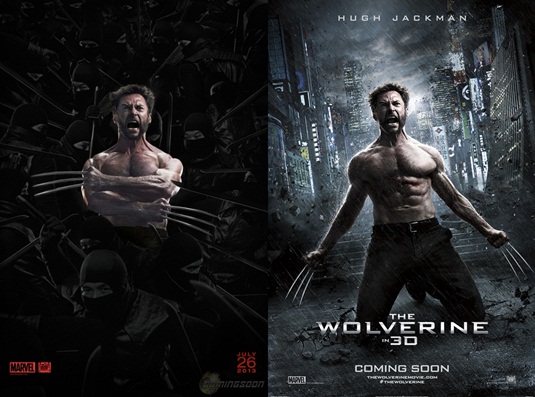 The Wolverine has released a pair of brand new posters online, one of which finds our hero surrounded by a mirror maze full of black-clad ninjas, while the other has him bellowing against a Tokyo skyline, indicating that Logan's trip to Japan isn't going to be all karaoke adventures.
Obviously, the crumbling city is a bit of a poster thing these days (Batman, Star Trek). The other Wolverine poster, which debuted on Coming Soon, drops the artistic style of the first poster in exchange for a rough photoshop job.
However, Hugh Jackman looks as ripped as ever in the title role, returning for another solo X-Men outing in a standalone film aimed to make audiences forget about X-Men Origins: Wolverine. The comic book blockbuster, based on Chris Claremont and Frank Miller's 1982 limited series, marks the sixth time Jackman has played the Marvel antihero.
The anticipated film also stars Will Yun Lee, Svetlana Khodchenkova, Hiroyuki Sanada, Hal Yamanouchi, Tao Okamoto, Rila Fukushima and Brian Tee.
James Mangold's The Wolverine opens in 3D and 2D theaters on July 26th, 2013.
Click on each poster to see a bigger version of it.