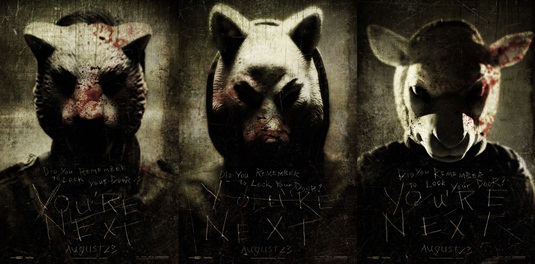 Have a high-res look at all three of the posters for Adam Wingard's home invasion thriller You're Next. Certainly one of the film's most iconic aspect is the masks of the three killers.
Therefore, Lionsgate is officially unleashing it's 'animals' via series of teaser posters connected to the film, which you can check out below.
One of the hits of 2011 TIFF and Fantastic Fest, the film has been sitting dormant until just over a week ago, when it played at SXSW. You're Next finally opens August 23rd, 2013.
These one-sheets also ask 'Did you remember to lock your door?', so if you didn't that was useful reminder. The first trailer coming out this Thursday, March 28th.
Directed by Wingard with a script written from Simon Barrett, the duo best known for A Horrible Way to Die, V/H/S and the forthcoming V/H/S/2, the slasher boasts an amazing cast that includes Sharni Vinson (Patrick remake), Nick Tucci (Undocumented), Wendy Glenn (11-11-11), AJ Bowen (The Signal), Joe Swanberg (V/H/S), Amy Seimetz (A Horrible Way to Die), Ti West (The Innkeepers), Calvin Reeder (The Rambler), Larry Fessenden (The Last Winter), Kate Lyn Sheil (V/H/S), Barbara Crampton (80′s fav), Margaret Laney  and Rob Moran, respectively.
You're Next 'is set during a family reunion getaway where the Davison family comes under a sadistic attack. When Crispian Davison (AJ Bowen) brings his new girlfriend (Sharni Vinson) along to celebrate the wedding anniversary of his parents (Rob Moran and Barbara Crampton), the family's evening together is shattered when a gang of mysterious killers begin to hunt the family down with brutal precision. Unfortunately for the killers however, one of the victims harbors a secret talent for fighting back.'
Check them out and stay tuned.