During Sunday's press conference in Tremosine,
Dan Bradley
– who's the second unit director – said that the scenes at
Garda Lake
will be 11 minutes long in the final film, but it depends from the weather: they hope the next days it will be sunny, so they'll film more scenes and the final result will be longer, otherwise they'll cut some scenes.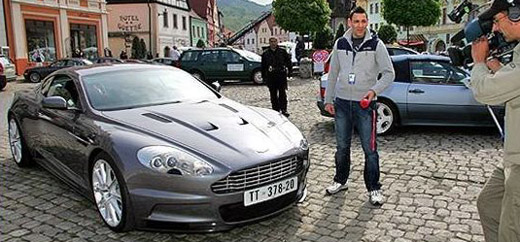 The scene is described as the 'first sequence' of the movie – 15 minutes or so where we see a spectacular car chase and then a gunfight. This scene is being done by a Second Unit, directed by Dan Bradley. It's a car chase along the Gardesana, a famous and beautiful road around the lake (which is the biggest lake in Italy), between Malcesine, Limone and Tremosine: they closed the road and mounted some cameras on some
Aston Martins DBS.
The scenes involves 40 stuntmen (half italian and half european), six doubles of
Daniel Craig
, many
Aston Martin DBS
's and a Black
Alfa Romeo 159
, famous Italian Car, which was the Bad Guy's Car. They're going to shoot in Gargnano and Limone until April 25. Daniel Craig is resting in London after filming in Siena and Chile, but he'll be available to shoot some reverse shots if the weather is good. It's almost sure he'll be in
Carrara
between April 25 and May 13, where they'll film some important scenes in the very famous quarries of marble, with a flying camera.