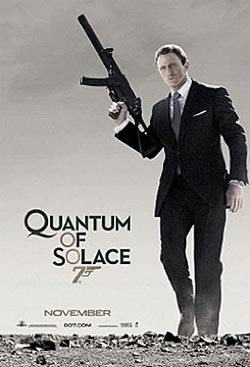 Columbia Pictures
has confirmed that they have decided to push the theatrical release of
"Quantum of Solace"
back a single week to November 14th. It makes sense, to take advantage of the holiday movie-going crowd.
"The strategic move places the highly-anticipated James Bond adventure one week closer to the prime movie-going holiday window and takes advantage of last week's decision to move the release date of Harry Potter and the Half-Blood Prince."
"We saw the film recently in London and Marc Forster, Daniel Craig and the entire team at EON have truly delivered another extraordinary Bond adventure," said Jeff Blake, Chairman of Worldwide Marketing and Distribution for the Columbia Tristar Motion Picture Group. "'Quantum of Solace' is a seamless continuation of the storyline that began with the last film. We believe November 14th is a great date that allows us to play straight through Thanksgiving and right into Christmas. The Bond films have a long history of entertaining audiences in this holiday corridor going back to Goldeneye in 1995. The studio enjoyed tremendous success opening 'Casino Royale' in North America on November 17, 2006, and we believe this decision will give the public a wider opportunity to see the film over the holiday."
Just
last week
, "
Harry Potter 6
" newly planted its domestic flag on July 17, as executives sought to fill a hole in Warners' summer 2009 slate. The most immediate response to that move was Summit Entertainment's decision to move its youth-targeted vampire film "
Twilight
" up three weeks into the vacated "Potter" slot. Three other domestic wide releases are set for November 14 — Fox's Baz Luhrmann-helmed adventure "Australia," starring
Hugh Jackman
and
Nicole Kidman
; the MGM comedy "
Soul Men
," toplined by
Samuel L. Jackson
and
Bernie Mac
; and Overture's
Freddy Rodriguez
-starring "
Nothing Like the Holidays
." Bond films tend to get an earlier jump in the U.K., and "Solace" will receive its world premiere October 29 in London, two days before its U.K. opening.