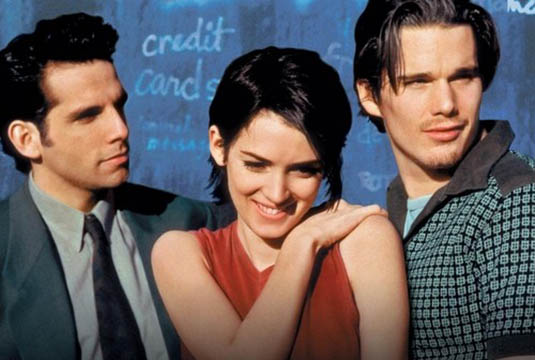 The cult 1994 romantic comedy Reality Bites is becoming a sitcom! We've just learned that director Ben Stiller and writer Helen Childress have teamed for a TV series version of the movie, and that a project is set up at NBC. Everything else is pretty much the same. The single-camera comedy project will center on Lelaina Pierce as she struggles to make her way in the early 1990s.
So, at this moment we know that Stiller (who directed the original film) is revisiting the film as a show and is also attached to executive produce the series along with Universal Television and Double Feature Films, the company run by Michael Shamberg and Stacey Sher, who were producers on the original film.
The TV show, just like the original movie, will once again be set in Houston, and revolve around a recent college graduate Lelaina Pierce (the character played in the movie by Winona Ryder), who struggles to make her way (romantically and professionally) in the recession-plagued, pre-Internet early 1990s. Of course – her "slacker" friends with whom she shares an apartment are also on board.
And that's basically all we know about the project so far.
Hope we'll soon have more updates to share, let us know what you think about the news!