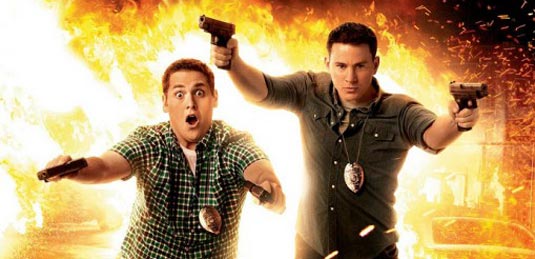 Jonah Hill recently revealed that they're already at work on 21 Jump Street sequel:
"We are writing the sequel now, we got [the greenlight] by the studio to start writing the sequel."
That's nice but we're still waiting for the first one which opens on March 16th, 2012. Until then we're here to share with you a new red band TV Spot and clip from this action comedy.
As you already know, the movie comes from directors Phil Lord and Christopher Miller and stars Hill and Channing Tatum as Schmidt and Jenko who join the police force and the secret Jump Street unit, and then use their youthful appearances to go undercover in a local high school.
Soon, they find that high school is nothing like they left it just a few years earlier and neither expects that they will have to confront the terror and anxiety of being a teenager again and all the issues they thought they had left behind.
The rest of the cast includes Ice Cube, Brie Larson, Rob Riggle, DeRay Davis, Dave Franco, Jake Johnson, Johnny Simmons, Johnny Pemberton, Dakota Johnson, Ellie Kemper and Johnny Depp.