Check out the red band trailer video and poster for "
Red State
,"
Kevin Smith
's forthcoming indie horror starring
Michael Parks, John Goodman, Dermot Mulroney, Kyle Gallner, Michael Angarano, Stephen Root, Kevin Pollak
and
Melissa Leo
and centers on a group of misfits who encounter extreme fundamentalism in Middle America.
Here's the official plot synopsis for Red State:
RED STATE unfolds in a small town dominated by a fundamentalist preacher, Abin Cooper. It tells the story of three high school boys who, on their way to an internet arranged meeting with a woman, end up crossing paths with Cooper. The encounter sets into motion a series of events that causes all hell to break loose. A horror thriller that could only come from the imagination of Smith, RED STATE stars Tarantino and Rodriguez favorite Michael Parks ("From Dusk Till Dawn", "Kill Bill Vols. 1 & 2″), Oscar Nominee for Best Actress Melissa Leo ("The Fighter," "Frozen River") and John Goodman, Michael Angarano, Kyle Gallner and Nicholas Braun.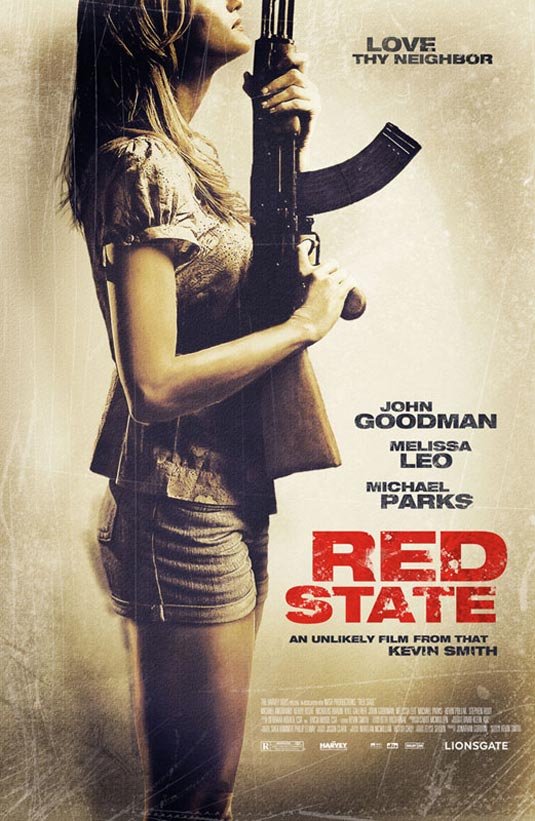 Red State Poster
Written and directed by
Kevin Smith
and produced by
Jonathan Gordon
, RED STATE stars 2011 Academy Award® winner for Best Actress
Melissa Leo
and Emmy® winner
John Goodman
, plus
Kyle Gallner
and
Michael Parks
. The film debuted at this year's Sundance Film Festival to much notoriety when Smith ended studio bidding by buying his own film for $20 and declaring he would be self-distributing the film theatrically. Smith has since toured the film around the country to enthusiastic audiences, grossing close to $1 million to date at the US box office from only 15 single show engagements. SModcast spent less than $500 in paid advertising to support the tour which kicked off at Radio City Music Hall on March 5th and grossed $162,000 during one show. It quietly topped the per screen average charts for three weekends, becoming the 10th best per screen average film of all time. The movie is also getting an Oscar-qualifying run at the New Beverly in Los Angeles for a week starting on Aug. 19. Lionsgate will open
Red State
wider on October 19, 2011. Below we have a new full trailer for the film, which has far more footage than the teaser, and shows the mayhem and a bit of black humor in action.