Movie News
Rob Marshall Signs On For Thin Man Starring Johnny Depp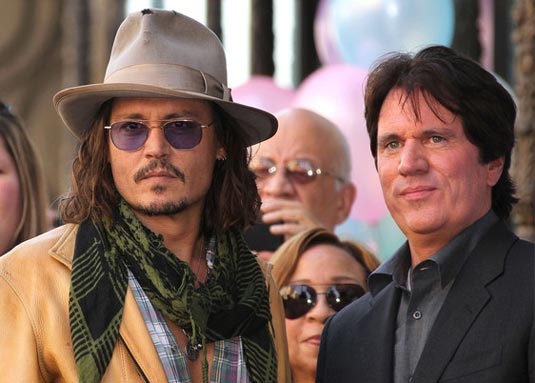 Few months ago we had a little chat about The Thin Man adaptation, when we wrote that Rob Marshall is in talks to direct the whole thing, with Johnny Depp on board to star.
Well, now we're here to report that's actually going to happen, because Marshall and John DeLuca have officially signed on to the Warner Bros. planned remake of the Oscar-Nominated 1934 film starring William Powell and Myrna Loy.
In case you have no idea what we're talking about, here's a little description:
"Nick and Nora Charles, accompanied by their schnauzer, Asta, are lounging in their suite at the Normandie in New York City for the Christmas holiday, enjoying the prerogatives of wealth: meals delivered at any hour, theater openings, taxi rides at dawn, rubbing elbows with the gangster element in speakeasies.
They should be annoyingly affected, but they charm. Mad about each other, sardonic, observant, kind to those in need, and cool in a fight, Nick and Nora are graceful together, and their home life provides a sanctuary from the rough world of gangsters, hoodlums, and police investigations into which Nick is immediately plunged.A lawyer-friend asks Nick to help find a killer and reintroduces him to the family of Richard Wynant, a more-than-eccentric inventor who disappeared from society 10 years before.
His former wife, the lush and manipulative Mimi, has remarried a European fortune hunter who turns out to be a vindictive former associate of her first husband and is bent on the ruin of Wynant's family fortune. Wynant's children, Dorothy and Gilbert, seem to have inherited the family aversion to straight talk. Dorothy, who has matured into a beautiful young woman, has a crush on Nick, and so, in a hero-worshipping way, does mama's boy Gilbert.
Nick and Nora respond kindly to their neediness as Nick tries to make sense of misinformation, false identities, far-fetched alibis, and, at the center of the confusion, the mystery of The Thin Man, Richard Wynant. Is he mad? Is he a killer? Or is he really an eccentric inventor protecting his discovery from intellectual theft?"
The Thin Man will reteam Marshall with Johnny Depp, who is, as we said, attached to star in the project. The two just worked together on Pirates Of The Carribean: On Stranger Tides which Disney will be releasing on May 20.
Jerry Stahl is attached as screenwriter, while in addition to DeLuca and Marshall, Johnny Depp and Christi Dembrowski are producing on behalf of Infinitum Nihil and Kevin McCormick is producing on behalf of his Langley Park Pictures.
Depp as detective-turned-socialite Nick Charles? Who would you like to see as Nora? Let us know, and stay tuned!