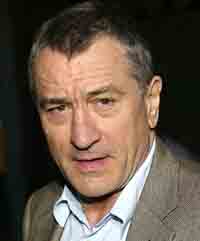 Robert De Niro will join Mel Gibson in the cast of "Edge Of Darkness."
"Edge Of Darkness" centres on Thomas Craven (Mel Gibson), an upstanding homicide detective who uncovers government and corporate cover-ups when his daughter is murdered.
De Niro will play Darius Jedburgh, a CIA operative dispatched to remove the evidence.
Martin Campbell, who directed the original 1985 BBC miniseries on which the film is based, will also direct the remake.
William Monahan wrote the script while Michael Wearing and Graham King will serve as producers.
"Edge Of Darkness" begins shooting next month in Massachusetts.