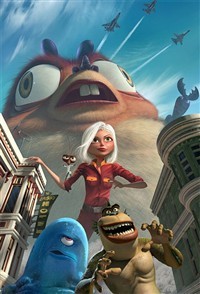 The trailer and posters for the upcoming DreamWorks animation' flick ('50s monster movie remake) "Monsters vs. Aliens" was shown during Comic-Con. A week after it is being screened to the convention's attendees, the bootlegged version of the footage can be enjoyed.
When a meteorite from outer space hits a young California girl named Susan Murphy (Reese Witherspoon) and turns her into a giant monster, she is taken to a secret government compound where she meets a ragtag group of monsters also rounded up over the years. As a last resort, under the guidance of General W.R. Monger (Kiefer Sutherland), on a desperate order from The President, the motley crew of Monsters is called into action to combat the aliens and save the world from imminent destruction!
"Monsters vs. Aliens" is scheduled to hit conventional and 3-D IMAX theaters on March 27th, 2009.
Download "Monsters VS Aliens" Leaked Trailer [REMOVED]