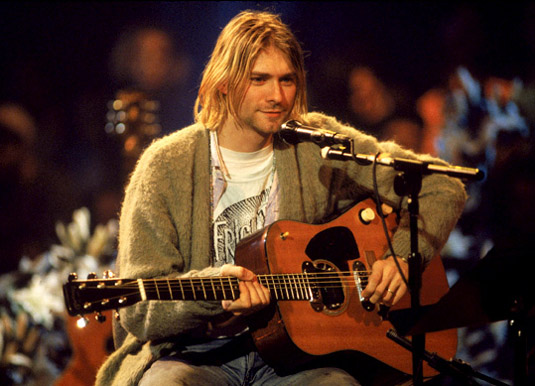 Ok, maybe you already had a chance to hear the rumor that's refering to possible biopic adaptation of the late Nirvana front man Kurt Cobain.
At first, we heard that young Robert Pattinson will have an honour to play Cobain, and that the movie will be titled All Apologies. But, today, it looks like Pattinson is off this job, working title of the biopic is Heavier Than Heaven, and the only thing that's sure is the fact that production deal with Universal does exist!
So, biopic is coming to the big screen. As we heard, this is a big money deal for Courtney Love. She has agreed to the film on condition that she gets to decide the main aspects of the project including director, casting, screenplay and music.
Here's the official synopsis: "Based on more than 400 interviews, four years of research, exclusive access to Cobain's unpublished diaries, and a wealth of documentation, Heavier Than Heaven traces Cobain's life from his early days in a double-wide trailer outside of Aberdeen, Washington, to his rise to fame, success, and the adulation of a generation. Cross reveals the familial turmoil that fueled Cobain's creativity, the generational history that forged his character, and the unusual love story that shaped his relationship with wife Courtney Love. Drawing from medical and police reports, and Cobain's own private writings, Cross also reveals the truth about Cobain's health struggles and his tragic final days."
But, interesting things (or, let's better say rumors) are involved with the whole story.
Some out there say that Courtney Love's choice for the actor to play Cobain has always been Pattinson and she's always wanted Scarlett Johansson to play her in the movie.
There are also speculations that Cobain's widow wants David Fincher to direct. Anyone surprised? Although this Fincher idea doesn't sound bad, and since we all know that Oscar nominated writer Oren Moverman (The Messenger) would be revising the screenplay for a biopic (the two of them would make a great team), we must say that we're little surprised about Pattinson, as well as Johansson, and we could just ask a question – what about Jared Leto, for example?
Anyway, we're really hoping for some new information as soon as possible, because, as you see, seems that things about this project are changing from minute to minute. And we all know that this man definitely deserved good movie, and (we must say it!) good actor as well! So, stay tuned, guys!