Movie News
Robert Redford's Political Thriller Expands in Impressive Fashion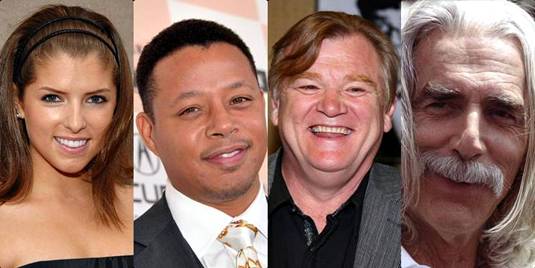 Like a true democrat Robert Redford doesn't keep the real news under wrap! Furthermore, Redford has called in a huge and fine ensemble for his latest project The Company You Keep.
Oscar-nominated Anna Kendrick and Terrence Howard, along with veterans Brendan Gleeson and Sam Elliott, as well as America's Got Talent finalist Jackie Evancho, join an already stellar group that includes Shia LaBeouf, Brit Marling, Nick Nolte, Susan Sarandon, Richard Jenkins, Julie Christie, Stephen Root, Stanley Tucci, Chris Cooper and Redford himself.
Well, based on the novel by Neil Gordon and adapted by Lem Dobbs, drama/thriller Company centers around 'the story of former Weather Underground militant Jim Grant, wanted by the FBI for 30 years, who must go on the run when his true identity is exposed by a young, ambitious reporter hell-bent on making a name for himself. Redford plays the former radical Jim Grant at the center of this nationwide manhunt and LaBeouf, the determined journalist doggedly chasing him.'
Kendrick, who was recently seen in Jonathan Levine's 50/50, will portray a young FBI agent named Diana, who's also LaBeouf's character's ex-girlfriend and who provides him with updated information he needs to uncover the truth about Grant and the Bank of Michigan robbery.
Howard is set as the senior FBI agent Cornelius who has been chasing Grant for years and now leads the task force assigned to take down the remaining Weather Underground fugitives.
Character actor Gleeson who recently played an unconventional Irish police sergeant in Irish cop tale The Guard, will play Henry Osborne, the retired Michigan Chief of Police who investigated a key case in the 1960s.
This time Elliott won't match the iconic image of a cowboy as he will play Mac, Christie's employer in the marijuana trade who used to be romantically involved with her.
Finally, the 11-year old newcomer Evancho will take on the role of Redford's daughter, who recently lost her mother and is unaware of her father, is none other than former Underground member.
I really hope the Company film will do well because Redford's previous feature The Conspirator also has an amazing ensemble cast, but failed at box office.
Nevertheless, check out the trailer below:
[youtube]http://www.youtube.com/watch?v=iSvG_gk2mZU[/youtube]
The Conspirator – Trailer