Movie News
Sanaa Lathan Joins Steven Soderbergh's Contagion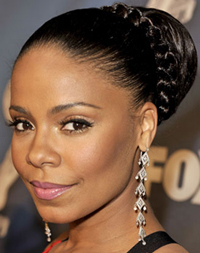 Yes, we had
a little chat
about the upcoming
Steven Soderbergh
's
Contagion
, so you know that all-star cast is already involved in the whole thing:
Laurence Fishburne, Matt Damon, Jude Law, Marion Cotillard, Kate Winslet
and
Gwyneth Paltrow
. Today, we're here to add another name to this list, because lovely
Sanaa Lathan
will join above mentioned cast as Laurence Fishburne's wife! The action-thriller takes place over four continents and centers on a deadly virus that threatens the human population, with groups from around the world working together to contain the epidemic. Damon, Winslet, Cotillard, Law and Fishburne are going to "play an international team of doctors and scientists brought in by the CDC (Centers for Disease Control) once a sickness outbreak starts." The script for Contagion was written by Scott Burns and produced by Soderbergh, Stacey Sher, Greg Jacobs and Michael Shamberg.
Contagion
is currently shooting in Chicago and is slated for an October 21st, 2011 release.