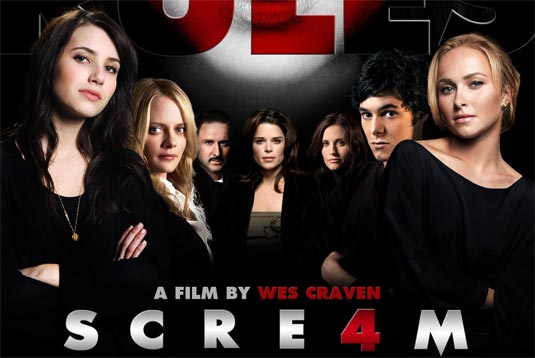 Dimension Films has released the teaser trailer and four posters for Scream 4.
Sidney (Neve Campbell) — now the author of a self-help book — returns home to Woodsboro on the last stop of her book tour. There she reconnects with sheriff Dewey (David Arquette) and his wife, Gale (Courteney Cox), as well as her cousin Jill (Emma Roberts) and her aunt Kate (Mary McDonnell). Unfortunately, Sidney's reappearance also instigates more Ghostface killings and puts Jill's high school friends in danger.
Hayden Panettiere, Rory Culkin, Nico Tortorella, Marielle Jaffe, Marley Shelton, Erik Knudsen and Adam Brody also star in the horror film.
Directed by Wes Craven, Scream 4 is scheduled to hit theaters on April 15, 2011.
Scream 4 teaser trailer

Scream 4 posters