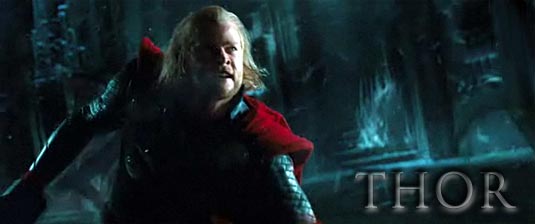 Paramount Pictures and Marvel Studios have just unveiled the second theatrical trailer for
Thor,
which features star
Chris Hemsworth, Natalie Portman, Kat Dennings, Anthony Hopkins
and some big monsters from the Ice Giant's planet. Director
Kenneth Branagh
(Henry V, Frankenstein, Sleuth) and I Am Legend scribe
Mark Protosevich
bring Marvel Comics strongman
Thor
(played by Star Trek's Chris Hemsworth) to the big screen in this big-budget adventure that chronicles the mystical roots of the Asgardian god. At the center of the story is the mighty Thor (Chris Hemsworth), a powerful but arrogant warrior whose reckless actions reignite an ancient war. Thor is cast down to Earth by his father Odin (Anthony Hopkins) and is forced to live among humans. A beautiful, young scientist, Jane Foster (Natalie Portman), has a profound effect on Thor, as she ultimately becomes his first love. It's while here on Earth that Thor learns what it takes to be a true hero when the most dangerous villain of his world sends the darkest forces of Asgard to invade Earth.
Thor
will be released to theaters on May 6, 2011.
Download Thor trailer:
HD-Quality 1080p [1920 px]
− 175 Мb (QuickTime)
HD-Quality 720p [1280 px]
− 131 Мb (QuickTime)
HD-Quality 480p [852 px]
− 49 Мb (QuickTime)
What do you think of the new trailer? Does Paramount and Marvel have a hit on their hands?