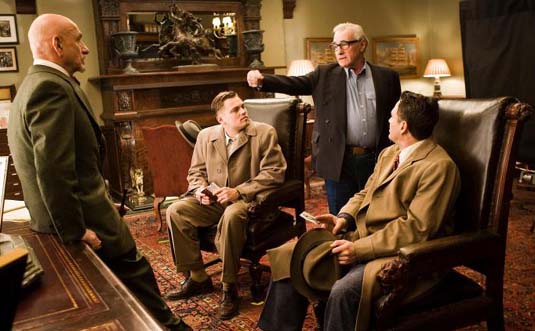 IGN has debuted this short
Shutter Island
featurette. Check it out below.
Ben Kingsley, Leonardo DiCaprio, Martin Scorsese and Mark Ruffalo – Shutter Island
The upcoming psychological thriller is directed by Martin Scorcese. This is Laeta Kalogridis' adaptation of Dennis Lehane's 2003 novel of the same name. The movie stars
Leonardo DiCaprio, Mark Ruffalo, Ben Kingsley, Michelle Williams, Patricia Clarkson
and
Max von Sydow
.
Shutter Island Synopsis
: The year is 1954, at the height of the Cold War, when U.S. Marshal Teddy Daniels (three-time Academy Award® nominee Leonardo DiCaprio) and his new partner Chuck Aule (Mark Ruffalo) are summoned to Shutter Island to investigate the implausible disappearance of a brilliant multiple murderess from a locked room within the impenetrable Ashecliffe Hospital. Surrounded by probing psychiatrists and dangerously psychopathic patients on the remote, windswept isle, they arrive into an eerie, volatile atmosphere that suggests nothing is quite what it seems. With a hurricane bearing down on them, the investigation moves rapidly. Yet, as it mounts, the mysteries multiply. There are hints and rumors of dark conspiracies, sordid experimentation, repressive mind control and secret wards, but elusive proof. Moving in the shadows of a hospital haunted by the terrible deeds of its slippery inhabitants and the unknown agendas of its equally ingenious doctors, Teddy begins to realize that the deeper he pursues the investigation, the more he will be forced to confront some profound and devastating fears.
Shutter Island
opens in theaters on February 19, 2010.