Movie Photos
SKYFALL Set Photo Features Judi Dench and Sam Mendes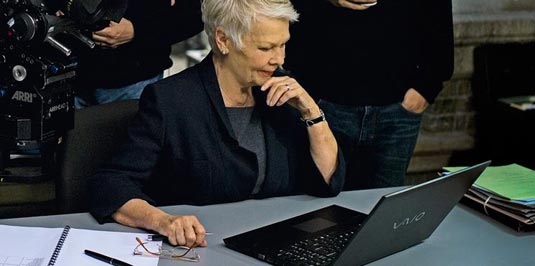 We have another set photo from the upcoming Skyfall movie and this time a better look at Judi Dench and…well, a better look at director Sam Mendes as well!
But hey, it's an official set photo and I'm sure that Bond's fans are going to appreciate it!
If anyone asks, I'm interested in this movie mostly because Daniel Craig is back as James Bond 007 in the 23rd adventure in the longest-running film franchise of all time.
And this time, his loyalty to M is tested as her past comes back to haunt her. As MI6 comes under attack, 007 must track down and destroy the threat, no matter how personal the cost.
The rest of the cast looks promising as well, and as you already know, it includes Javier Bardem, Berenice Marlohe, Helen McCroy, Albert Finney, Naomie Harris, Ben Chaplin and Ralph Fiennes.
Skyfall opens on November 9th, 2012!