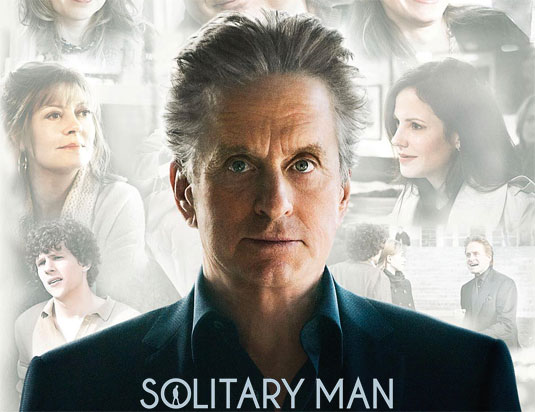 Anchor Bay Films has released two posters and trailer for
Solitary Man
starring
Michael Douglas, Jesse Eisenberg, Jenna Fischer, Susan Sarandon, Mary-Louise Parker
and
Danny DeVito
. A once successful Manhattan mogul who owned a chain of car dealerships finds himself on the brink of a fantastic comeback. His marriage and businesses were lost to him through a series of indiscretions of romantic and financial natures. His new girlfriend has a father that is offering him a second lease on life, but the one catch is he has to take his girlfriend's daughter on a weekend college visit where he absolutely must behave himself or lose everything.
Solitary Man Poster The movie is co-directed by
Brian Koppelman
and writer/producer
David Levien
who both wrote Walking Tall, Ocean's Thirteen and The Girlfriend Experience.
Solitary Man
arrive in limited theaters starting on May 7th this summer.
Solitary Man Trailer
Solitary Man Poster, Michael Douglas