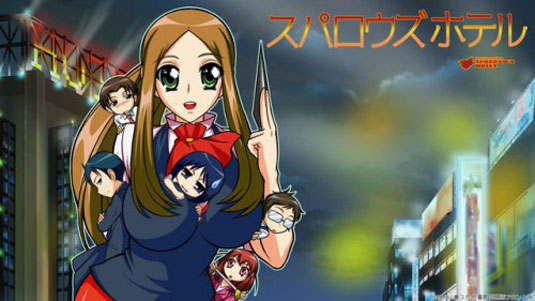 The official website for the comedy television anime
Sparrow's Hotel
began streaming a promotional video which has been running in bookstores throughout Japan. Check it out below: The video introduces Sayuri Satō (voiced by
Minori Chihara
), the new front desk worker at the Sparrow's Hotel – "the closest hotel to Heaven." Her special features are her large breasts and her assassination skills (yeah… well, what did you expect from anime?). She takes down people who cause trouble in the business hotel with those skills, but she is in fact very unskilled when talking to the male hotel manager, and often bites her tongue. Tamaki Shiokawa (
Haruka Nagashima
) is the diminutive head of the front desk staff, and Misono-kun (
Daisuke Kishio
) is the college student who runs the night shift. Shiokawa's older brother is the impeccable young head of operations.
Yuka Santoh
has been drawing the manga in Takeshobo's Manga Life magazine since 2008 (after some one-shot shorts), and Takeshobo will publish the third compiled volume on April 17th. The publisher's new Manga Life Storia magazine will also launch a manga spinoff this month.
Tetsuji Nakamura
(Zatch Bell, Digimon Tamers Movie 6: The Runaway Digimon Express) is directing the series at Dream Creation and Hotline, and
Daisuke Kusakari
(key animator for Death Note, Penguindrum, Guin Saga) is adapting Satoh's characters to animation.
Masakatsu Oomuro
(Kamisama Kiss, Yuruyuri) is the sound director at Dax Production. The anime will premiere on April 9th, 2013, and Crunchyroll announced that it will stream the anime outside Japan.