Movie News
New Clip from STAR WARS: THE CLONE WARS Marks Coming to an End; Seth Green's STAR WARS: DETOURS Indefinitely Postponed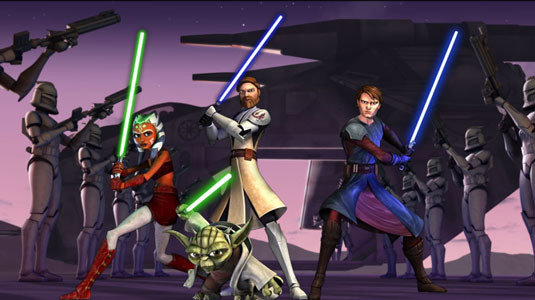 This is a sad, sad day for fans of Star Wars animated franchise title, Star Wars: The Clone Wars. Namely, it looks like Lucasfilm has plans to shut down the series that had a successful five-season run. No new episodes will be produced for Cartoon Network, but some story arcs are being developed and will be available elsewhere as bonus material (I'm guessing that refers to the 'missing two episodes of the final season – every season so far had 22 episodes, while this last one has twenty). Another animated series – Seth Green's Star Wars: Detours – won't even get a lift-off, since the execs have decided to postpone the comedy, planned even before the new film trilogy was announced.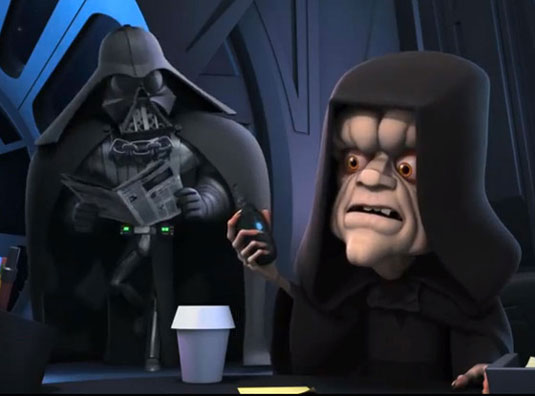 Well, given all the huff and puff centered on new trilogy, it is (a bit) understandable that they want to focus entirely on it (in order to get it done well), but considering the season five's ending, the decision is still a bit disheartening, and I'll be terribly disappointed if I never get to see Ahsoka Tano again – in cartoons or otherwise. Here's the video of Star Wars: The Clone Wars supervising director Dave Filoni, who offers a look at what's next for the final run of the animated series: Here's the full press release (via StarWars.com):
As we enter into an exciting new era focused on the next Star Wars trilogy, Lucasfilm has decided to pursue a new direction in animated programming. We are exploring a whole new Star Wars series set in a time period previously untouched in Star Wars films or television programming. You can expect more details in the months to come. As part of this shift, we have also made some key decisions affecting Star Wars: The Clone Wars and Star Wars Detours. After five highly successful and critically acclaimed seasons of Star Wars: The Clone Wars, we feel the time has come to wind down the series. While the studio is no longer producing new episodes for Cartoon Network, we're continuing production on new Clone Wars story arcs that promise to be some of the most thrilling adventures ever seen. Stay tuned for more information on where fans can soon find this bonus content. In the video below, Supervising Director Dave Filoni offers a peek of what is to come in Star Wars: The Clone Wars. At Star Wars Celebration VI last year, George Lucas gave fans a glimpse at the animated comedy series Star Wars Detours from Seth Green, Matthew Senreich, and Todd Grimes. Detours was conceived and produced before we decided to move forward with the new Star Wars trilogy, and in the wake of that decision, Lucasfilm has reconsidered whether launching an animated comedy prior to the launch of Episode VII makes sense. As a result, we've decided to postpone the release of Detours until a later date. We are incredibly proud of the teams at Lucasfilm Animation for creating some of the most amazing animation ever produced for TV. Keep checking StarWars.com for new developments on these and future projects.
What say you, people? Will there be enough fans to voice up and make the new season happen, in spite of all odds?