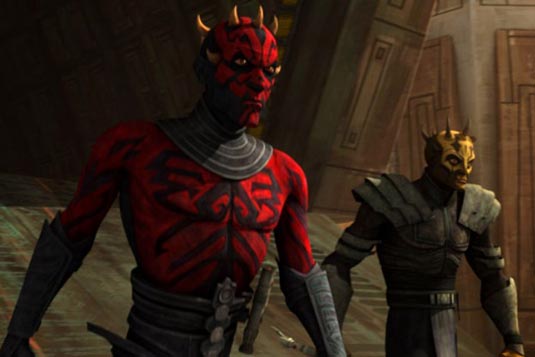 If you were watching the last season of Star Wars: The Clone Wars animated series as breathlessly as I did, you've probably been left anxiously pondering about "what the heck will be next?!", after resurrecting Darth Maul.
Some lucky fans who happened to be at Star Wars Celebration VI in Orlando were able to have some insight into what will happen next in the "galaxy far, far away", as this epic trailer has been released at the celebration. I won't reveal anything, take a look below and enjoy:
[youtube]http://youtu.be/SFQRoVlePvg[/youtube]
"I'd say these are the most thought-provoking episodes we've done, for sure," supervising director Dave Filoni says of the new season, set to debut on Cartoon Network on Saturday Sept. 29 in its new 9:30 a.m. timeslot. "Is there a benefit of having seen the previous four seasons? Yes. Season 5, more than any other we've produced, is geared to the loyal viewer."
"The first season 5 trailer we released back in June was about the most limited version possible of what you could see," Filoni says. "It didn't have any of the good stuff in it, because there's so little that we could show that wasn't going to give our secrets away. So for this new trailer I said to our editor Kevin Yost, 'I'm giving you all of the footage, and the only thing you can't show or talk about is this one thing. But everything else, put it in, and I'll tell you if you went too far.' Except for one thing, everything was fair game."
Have a look at the first trailer, too, just in case you've forgot:
[youtube]http://youtu.be/PwGUaBxrkWE[/youtube]
Could this "one thing" that's completely off-limits be a galaxy-shattering revelation on par with Darth Maul's resurrection that'll have fans' heads spinning? "Oh yeah," Filoni says. "Oh yeah."
Whatever happens, this season will definitely be centered on Darth Maul. Anyone up for a bet?