Movie Photos
Steve Carell and Tina Fey In "Date Night" First Look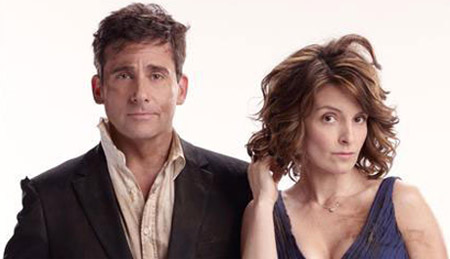 Here's the first official look at
Steve Carell
and
Tina Fey
as married couple Claire and Phil Foster in new comedy "
Date Night
." The story follows a couple who find their routine date night becomes much more than just dinner and a movie.
Mark Wahlberg
plays a successful and crazily buff securities expert who flirts with Fey's character.
James Franco
portrays a not-too-bright con man and petty criminal.
Leighton Meester
is onboard as the couple's babysitter.
Taraji Henson
plays the one good cop who believes the couple is in danger, and
Common
portrays a villain.
Kristen Wiig
rounds out the cast as the actress' best friend. The movie directed by
Shawn Levy
(Night at the Museum, Cheaper By the Dozen), who is known for films that revolve around family problems, from the script by
Josh Klausner
also stars
Ray Liotta, Mila Kunis, Mark Ruffalo, William Fichtner
and
Olivia Munn
. "They're an average couple with a nice house and a seemingly nice life. And for all intents and purposes, it is. Ultimately, it's there for them to discover that it is. But like anything, you get used to patterns and the sameness of things and lose a perspective on your life," Carell says. "Date Night" is scheduled to hit theaters on April 9, 2010.