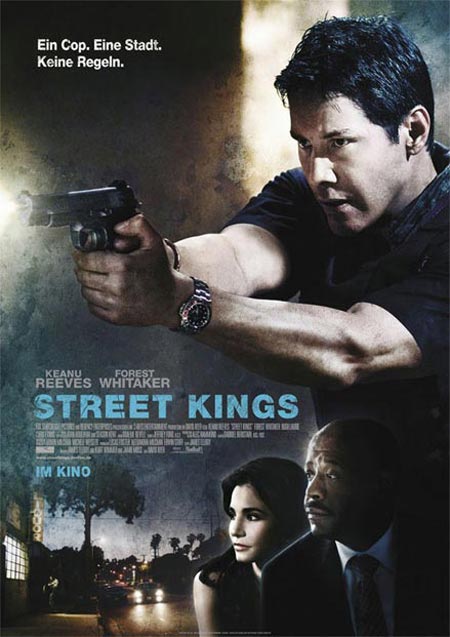 I've been waiting to see a trailer for Keanu Reeves' "Street Kings" for a while and when it was finally released, it was a bunch of shoot 'em up action and that's about it. Now, an international trailer has appeared online, which delves deep into the story and gives us a glimpse at some of the intense scenes.
"Street Kings" is directed by David Ayer, the man behind screenplays for "The Fast and the Furious," "Training Day" and "SWAT." It is scheduled to hit theaters on April 11th.
Synopsis
In the wake of the L.A. riots, an LAPD vice detective who always went above and beyond the call of duty to keep the streets safe receives a startling wake-up call that leaves him convinced he can no longer employ the tactics that made him so effective in his work. LAPD veteran Tom Ludlow (Keanu Reeves) has borne personal witness to the worst that the streets have to offer, and when his partner, Detective Terrance Washington (Terry Crews), is killed the violence strikes a bit too close to home. Now Ludlow is on a mission to bring his partner's killer to justice, though Captain Walker (Forest Whitaker) is concerned that the hotheaded detective is taking the case too personally. Now, as Captain Walker attempts to convince Ludlow to work within the confines of the law, Internal Affairs Captain Biggs (Hugh Laurie) begins following the vengeful lawman's every move. In order to accomplish his mission, Ludlow recruits fresh-faced Robbery Homicide Detective Diskant (Chris Evans) to trace Washington's killers through the winding streets of Los Angeles. Later, when Ludlow and Diskant come face to face with the remorseless cop killers, they must chose between upholding the law and seeking bitter vengeance.