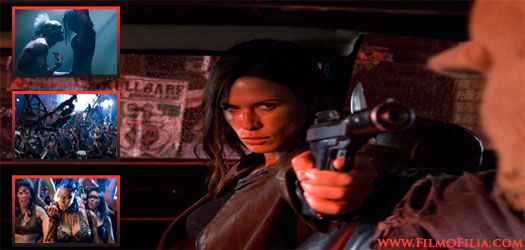 Three new video clips featuring restricted content for Doomsday appeared online courtesy of Universal's official website. The upcoming action-thriller by director Neil Marshall stars Rhona Mitra, Bob Hoskins, Adrian Lester, Alexander Siddig and Malcolm McDowell.
To check out the full gallery of photos, click here.
Plot Summary: In the action-packed new thriller from writer/director Neil Marshall ("The Descent"), authorities brutally quarantine a country as it succumbs to fear and chaos when a virus strikes. The literal walling-off works for three decades – until the dreaded Reaper virus violently resurfaces in a major city. An elite group of specialists, captained by Eden Sinclair (Rhona Mitra), is urgently dispatched into the still-quarantined country to retrieve a cure by any means necessary. Shut off from the rest of the world, the unit must battle through a landscape that has become a waking nightmare.
Doomsday will hit theaters March 14, 2008.