Movie Photos
Svetlana Khodchenkova as Viper in THE WOLVERINE First Look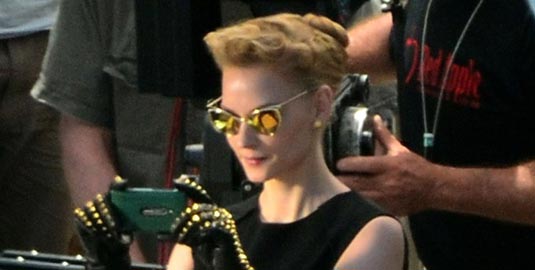 Hey guys, take a first look at
Svetlana Khodchenkova
who stars as Viper in
The Wolverine
! Finally something completely different from this project, so far it was all about
Hugh Jackman
and his Logan character. Let's be honest about this – Khodchenkova as Viper looks awesome, far better than the leading star! Too bad there's no action in these pictures, so we can only say that she has super cool sunglasses or something like that. Still, we do expect to see a lot of action from this Russian beauty, because we all know that Viper is a former friend turned enemy of Wolverine's, right? Pretty much the same as in the comics.
Anyway,
James Mangold
directs The Wolverine, which this time finds Logan, the eternal warrior and outsider, in Japan. There, samurai steel will clash with adamantium claw as Logan confronts a mysterious figure from his past in an epic battle that will leave him forever changed.
Will Yun Lee, Hiroyuki Sanada, Hal Yamanouchi, Tao Okamoto, Rila Fukushima
and
Brian Tee
also star in the movie which is set to open on July 26th, 2013. Let us know what you think about Khodchenkova and her new Viper-look, and stay tuned for more updates!