Movie News
'Sweeney Todd' Flashback Was Scary said Johnny Depp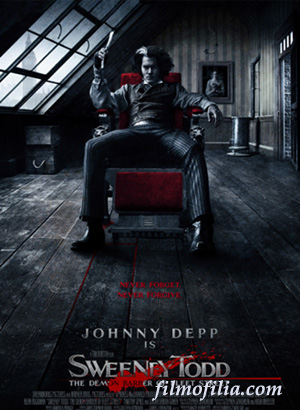 The movie is the sixth collaboration for Depp and director Tim Burton and one of their riskiest. It's based on Stephen Sondheim's bloody Broadway musical about a murderous barber, and Depp had scant singing experience.
In a career that has included drunk pirates and a scissor-handed recluse, Johnny Depp says the strangest scene he's ever filmed is a simple flashback in 'Sweeney Todd-The Demon Barber of Fleet street.'
Scene that scared Depp was flashback to young Sweeney's happy life before he was sent to prison by Judge Turpin was the scene.
It's arguably the most normal scene in the movie, and both Depp and Burton could hardly stomach it.
'I think that was the weirdest thing I ever had to shoot,' Depp told, '(Burton) literally was sobbing. He left the set of his own movie.'
Burton said the extreme melodrama of the scene was difficult to watch.
'That's when I knew (Depp) was a great actor, because that was terrible,' the 49-year-old director said. 'That was so bad.'
'That and having to soap up Alan Rickman's face were two of the scariest moments, maybe of my life,' joked Depp.