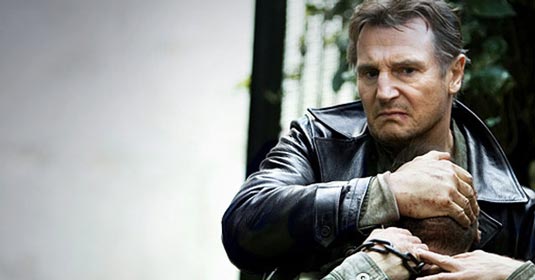 When I've seen Liam Neeson for the first time as Qui-Gon Jinn in SW Episode I – The Phantom Menace (it seems that this is Star Wars-mentioning evening), I thought that he'd make quite a good action-film star, and lo and behold! he's been making quite a name for himself in exactly that branch (repetitions intended for the sake of storytelling, heheh) – and unhindered by his age, one must praise him for that.
The peak of that action career came in 2008 with the film Taken, about an ex-CIA operative whose daughter has been kidnapped (I remember I felt quite sad when I had heard that his wife died soon after). The film was an unexpected but welcome success, and this fall, Neeson will be returning to the role in Taken 2.
This trailer begins something similar like one of the previously released (I think it was #2), but there is no too much words in this one – a measured mix of elements, just to 'brag' with Taken 2 being a proper sequel, with heightening the excitement and action and increasing the stakes.
See for yourself and sound off in comments:
[youtube]http://youtu.be/rv9ZNAQvnaI[/youtube]
Neeson had teased us early on that Taken 2 would have his character being captured along with Janssen's, but as the trailer shows, it doesn't last long before he's on a furious run to recover his ex-wife from the father of the villain killed in previous installment, played by Rade Serbedzija (I almost feel sorry for the guy – he constantly gets to play 'evil Russians or Serbs' in Hollywood-induced stereotypes).
Directed by Olivier Megaton (I'm wondering a bit why they didn't let Pierre Morrel to repeat the success, but this one isn't falling behind in talent either) Taken 2 will come to theaters on October 5th, 2012 and also stars Famke Janssen and Maggie Grace.