Movie Photos
Monkey Business In TARZAN: Another Trailer, 15 New Images & Set Pics With Kellan Lutz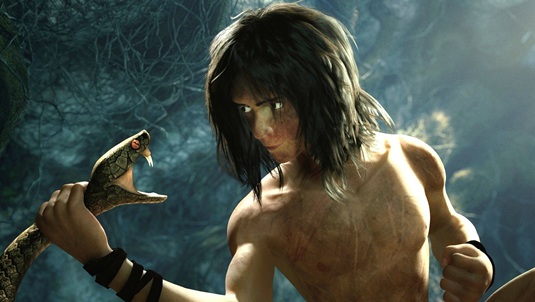 Ok, ok, we're more interested in Kellan Lutz's involvement in the upcoming Expendables movie, but before that – he will have to show us some jungle-skills, 'cause, in case you forgot, he's our new Tarzan! Or, is that Tarzan 3D? I have no idea, the only thing I know is that we're here to share the latest (international) trailer, some pretty cool images and set pics from Constantin Film's upcoming 3D animated feature. Head inside to take a look… [jwplayer mediaid="168180″] Directed by German producer Reinhard Klooss, the movie stars Lutz as Tarzan and Spencer Locke as his love interest Jane, who must face an army sent by the CEO of Greystoke Energies, the very man who took over the company after Tarzan's parents died in a plane crash.
While we're still here at the parents part of the story let us mention that Jaime Ray Newman lands her voice to Tarzan's late mother who died in a plane crash along with her husband John, voiced by Mark Deklin.
In the script, written by Klooss, Jessica Postigo and Yoni Brenner, Jane is the daughter of an African guide and is committed to the conservation and preservation of the African jungle. She eventually works with Tarzan to defeat the mercenary army of Greystoke Energies.
In other words:
The film updates the classic Edgar Rice Burroughs jungle hero. For example, Tarzan's parents, billionaire adventurers, are now killed in airplane crash rather than being marooned with their child. And the movie's villain is the CEO of Greystoke Energies, a man who took over the company from Tarzan's deceased parents.
Tarzan 3D is already set to hit German theaters on October 10th, 2013, but (un)fortunately – still nothing about the official release date here in USA.
As usual – we'll keep an eye on Tarzan, Jane, monkeys, jungle and everything else, and with every new update we'll be back. In the meanwhile – click on all these images to enlarge & let us know what you think. Are you even interested in this action-adventure?
TARZAN Photo Slideshow
https://www.youtube.com/watch?v=BMtVw7xOloA