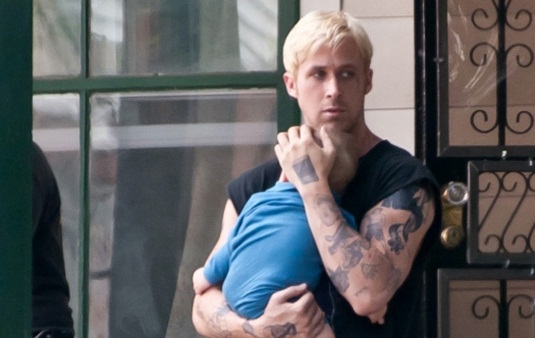 I just always assumed posters normally come out like a month before the teaser trailer, while the exact opposite combination has occurred for The Place Beyond the Pines. Focus Features has first released the Pre-Xmas debut trailer for the Derek Cianfrance's follow-up to the very fine marital drama Blue Valentine and then created a teaser poster in the 'omg movie-star' style. Directed and written by Cianfrance, the 'epic family saga' stars Ryan Gosling and Bradley Cooper as two fathers on a collision course: one is a pro-motorcycle rider and bank robber (Gosling), while the other is a rookie cop on the rise (Cooper). The crime drama also stars Eva Mendes, Ben Mendelsohn, Rose Byrne and Ray Liotta. We'll see The Place Beyond the Pines much sooner than expected, as the film has been dated for a limited release on March 29th, 2013, six months after the TIFF premiere. Head inside to check out a stormy teaser one-sheet without a bankable face.
Here's the official synopsis:
Luke (Ryan Gosling) is a professional motorcycle rider who turns to bank robberies to support his newborn son. But when he crosses paths with a rookie police officer (Bradley Cooper), their violent confrontation spirals into a tense generational feud. The Place Beyond the Pines is a rich dramatic thriller, tracing the intersecting lives of fathers and sons, cops and robbers, heroes and villains.
Source: The Film Stage