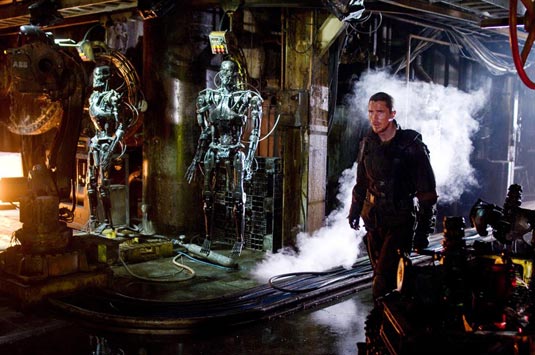 The official full-length trailer for "Terminator: Salvation" has arrived. Here's a much cleaner version of the trailer then one we showed you yesterday afternoon. The newest trailer for the latest instalment of the highly anticipated Terminator film series, promises plenty of neo-realistic action.
"Terminator: Salvation," begins with Christian Bale's voiceover about the war he's been fighting all this time, and then shows a glimpse of the desolate high-tech future in which civilisation is on the run from the march of the killing machines.
The fourth instalment, which is directed by McG, promises to be bigger than ever.
Christian Bale says he only agreed to the role because he was confident the film will reinvent the franchise.
He said: 'What I saw with Terminator was what I saw with Batman Begins.'
Set in post-apocalyptic 2018 the film picks up the story of hero John Connor, played by Bale. The rebel leader has a personal vendetta with the Terminators who killed his mother (originally played by Linda Hamilton) and his father. And he is the man fated to be the leader of the human resistance against Skynet and its army of Terminators.
And the future he was raised to believe in is altered in part by the appearance of Marcus Wright (Sam Worthington), a stranger whose last memory is of being on death row. Connor must decide whether Marcus has been sent from the future, or rescued from the past.
The film which will be released on May 22nd 2009 also stars Anton Yelchin, Bryce Dallas Howard and Helena Bonham Carter, with Josh Brolin rumored to appear as the Terminator.