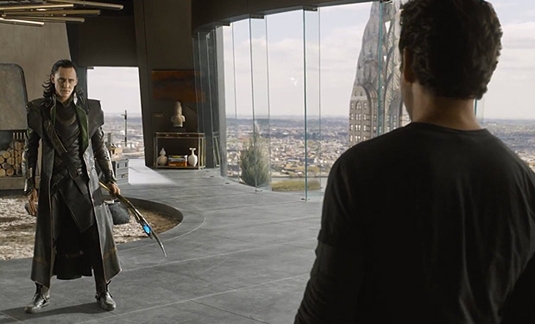 In this exclusive clip from the highly anticipated
The Avengers
,
Robert Downey Jr.
, as Tony Stark, breaks down the teams for Loki, wearing a Black Sabbath T-shirt. The good guys have quite the lineup as Tony says:
Your brother, the demigod. A super soldier, a living legend who kind of lives up to the legend. A man with breathtaking anger-management issues. A couple of master assassins. And you, big fella, you've managed to piss off every single one of us.
However, this new 'Headcount' clip featuring Downey Jr. as Iron Man confronting
Tom Hiddleston
's Loki on the challenge he has been going against 'Earth's Mightiest Heroes.' During a gentlemen's chat over drinks Stark also says:
You're missing the point. There's no throne, there is no version of this where you come out on top. Maybe your army comes and maybe it's too much for us, but it's all on you. Because if we can't protect the Earth you can be damned well sure we'll avenge it.
But Loki's comment about the Hulk is most intriguing:
Oh, I thought the beast had wandered off.
It's obvious the film is more than just a bunch of exploding cars flipping over; it is also reasonable discussions! Opening April 26th in the UK and May 4th in the US,
Joss Whedon
's superhero movie also stars
Chris Evans
as Captain America,
Mark Ruffalo
as the Incredible Hulk,
Chris Hemsworth
as Thor,
Scarlett Johansson
as Black Widow,
Jeremy Renner
as Hawkeye,
Samuel L. Jackson
as Nick Fury,
Clark Gregg
as S.H.I.E.L.D. Agent Phil Coulson,
Cobie Smulders
as S.H.I.E.L.D. Agent Maria Hill and
Stellan Skarsgård
as Dr. Selvig. Check out the new material.