Movie News
The Blind Side's Lily Collins to Star as Snow White in Relativity Studio's Version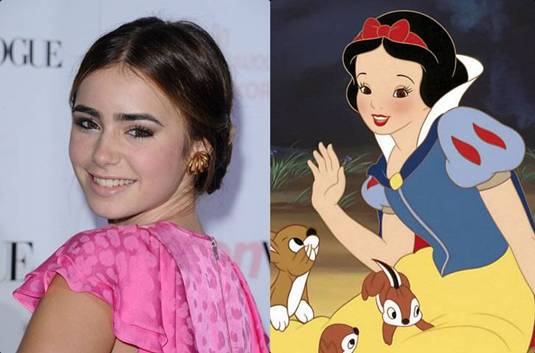 Lily Collins, the Blind Side actress and the daughter of rocker Phil Collins, has been cast as the lead in the untitled Relativity Studio's 3D film.
The Brothers Grimm: Snow White (formerly known) is being directed by Tarsem Singh (Immortals), and will star Julia Roberts as the evil queen and Armie Hammer (The Social Network) as the Prince who wakes Snow White from her spell at the end of the story.
Despite the fact The Brothers Grimm: Snow White seems to have scored their lead actress as Universal's Snow White and the Huntsman drops out their lead actor (Viggo Mortensen), the run between the two fairy tale competing remakes is still tight — Kristen Stewart is assigned as Snow White and Charlize Theron as the wicked queen, and production is slated for a December 21, 2012 release. Tarsem's feature is moving fast; pre-production is already accomplished with shooting to begin for a May and of June 29, 2012 release date.
Speaking to Speakeasy about the casting process young Collins said:
The audition process was less than 24 hours for me. I was cast yesterday, but the day before, I read at like three o'clock in the afternoon, and then met Tarsem that night and yesterday was cast. So it's been the quickest, most incredible casting process ever. So I know he's here, and I'm excited to get into the details of it knowing that I am the character. I'm so excited!"
Discussing her approach to Tarsem's version of Snow White, Collins added:
She's not written that way. In this version she's very much the feminine Snow White young girl that you know, but she also has this really cool action, taking-control-of-my-destiny side where she finds the dwarves and she has to fight to get her kingdom back. So again, it's a very cool arc to play, and she has to have those qualities. I mean, every young girl has both sides of that in them, so I think that's going to be really appealing for them to see and side with her and understand her character better.
Do you mind having two Snow White projects to choose from next year?
Source: Speakeasy