Movie Trailers
THE COLLECTION Opens Next Friday, Don't Miss 2 New Clips, Featurette & Interview With Josh Stewart!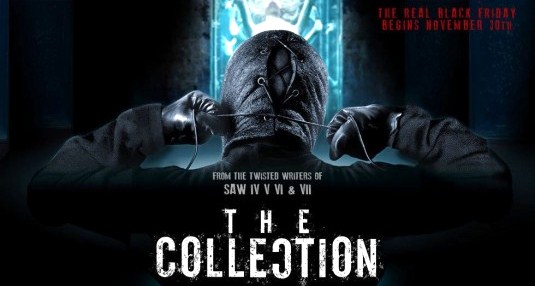 The real black Friday begins… well, next Friday, 'cause that's exactly when The Collection is set to hit the theaters! We have some great stuff to share with you today! First, you'll have a chance to watch two short clips from the movie. Then, we have a bit longer featurette (yes, director Marcus Dunstan has something very important to say!), and for the end we saved an interview with Josh Stewart aka the only man who managed to escape the wrath of the heinous monster! Enjoy!
We already wrote so much about this horror movie, so I'm sure you know every single thing about it. Still, my job is to remind you that The Collection comes from the above mentioned director Dunstan, who is also responsible for the script which he co-wrote with Patrick Melton. [jwplayer mediaid="125097″] The movie stars Emma Fitzpatrick as Elena, girl who goes to a secret party at an undisclosed location. With her friends of course, but fuck the friends when that psychopathic killer The Collector kidnaps her and transports to an abandoned hotel he's transformed into his own private maze of torture and death. Sick. [jwplayer mediaid="125098″] But the good thing is that Elena has a wealthy father, played by Christopher McDonald, who hires a group of mercenaries to retrieve her from the vicious grips of The Collector. [jwplayer mediaid="125099″] And even better thing is that Josh Stewart is on board as Arkin, the only man to have escaped the wrath of this heinous monster, because he will lead them through the gruesome labyrinth in order to save Elena's ass. [jwplayer mediaid="125100″] Definitely something worth our full attention, so don't miss The Collection on November 30th, 2012!