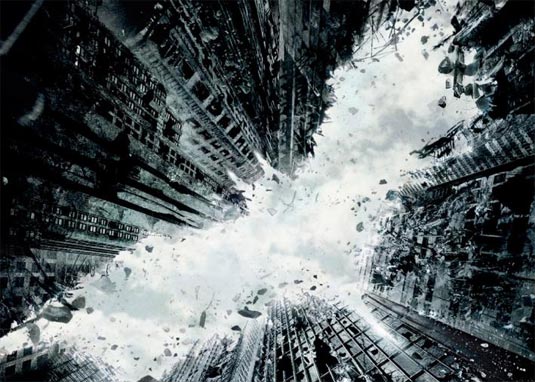 Warner Bros. and Legendary Pictures' have released the official teaser poster for their summer 2012 tentpole
The Dark Knight Rises
. The poster features a view of Gotham City, with the camera pointing upward at several skyscrapers as they appear to be collapsing but giving the undeniable shape of a bat.
Christian Bale
returns as Bruce Wayne, alongside returning cast members
Michael Caine, Morgan Freeman, Gary Oldman
, and
Nester Carbonell
.
Anne Hathway
plays Selina Kyle (Catwoman),
Joseph Gordon-Levitt
is John Blake,
Marion Cotillard
is Miranda Tate,
Tom Hardy
is Bane, and
Josh Pence
plays a young Ra's al Ghul, plus
Juno Temple
,
Matthew Modine
, and a potential surprise cameo. The screenplay for "The Dark Knight Rises" is written by
Christopher Nolan
and Jonathan Nolan, story by Christopher Nolan &
David S. Goyer
. The film is being produced by Emma Thomas, Christopher Nolan and Charles Roven, who previously teamed on "Batman Begins" and the record-breaking blockbuster "The Dark Knight." The executive producers are Benjamin Melniker, Michael E. Uslan, Kevin De La Noy and Thomas Tull, with Jordan Goldberg serving as co-producer. "The Dark Knight" is based upon characters appearing in comic books published by DC Comics. Batman was created by Bob Kane. In other news, it is being widely reported that the first teaser trailer (and poster) for The Dark Knight Rises will be doing the rounds with Harry Potter And The Deathly Hallows: Part 2.
The Dark Knight Rises
opens on 20 July 2012. [source:
Official Website
] Check it out below (click for a larger version).
The Dark Knight Rises Poster
What do you think of the teaser poster? Share your thoughts below.