Movie Photos
The First Official Image of Lindsay Lohan in Elizabeth Taylor Biopic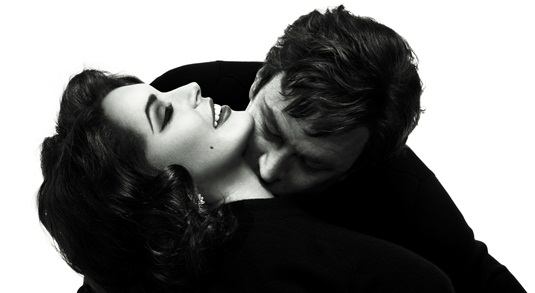 I am going to break the rules and write something about TV movies because I want to make my own tribute to the great actress Elizabeth Taylor. There is another reason for my decision – Lifetime has released the first official image of Lindsay Lohan in character as the screen legend. The black and white image shows LiLo with Grant Bowler from True Blood as Richard Burton in Lifetime's biopic Liz & Dick. The film chronicles the enduring love of the movie icons whose burning romance was the most notorious, publicized and celebrated of its day. Production on the TV network film which centers on Taylor's fourth and fifth marriage (both were to Burton) began yesterday, June 4th, in Los Angeles, and is expected to debut on Lifetime later this year. Firstly, we've got unofficial pictures of Lindsay Lohan in hair and make-up as famous actress.
In her latest photo Lohan dons very dark brown locks while Bowler plays Burton. What is important is that confirmation that this film's really happening.
Film's producer Larry Thompson tells E! News that the first scenes were shot yesterday morning and they were of Liz and Dick on a yacht (docked at Marina del Rey). He also reveals the cast and crew were in high spirits:
A little first-day jitters for everyone, but it went well,
he revealed, while adding that Lindsay was in a good mood as well. Good for troubled starlet Lohan. Lifetime president Nancy Dubec said that Lohan story is very similar to the real-life story of Taylor in real life, saying:
I think the parallels between Liz Taylor's story and Lindsay's story are undeniable.
Stay tuned.