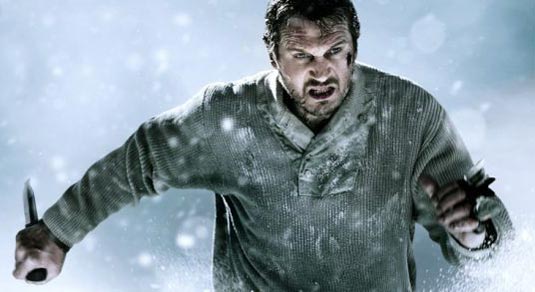 Open Road Films released a new banner and 10 high resolution photos from Joe Carnahan's chilly thriller
The Grey
starring Liam Neeson as an oilman who survives a plane crash in Alaska, only to find himself hunted by a pack of ferocious wolves.
Synopsis:
In 'The Grey', Liam Neeson leads an unruly group of oil-rig roughnecks when their plane crashes into the remote Alaskan wilderness. Battling mortal injuries and merciless weather, the survivors have only a few days to escape the icy elements – and a vicious pack of rogue wolves on the hunt – before their time runs out.
The film also features Frank Grillo (Warrior), Dermot Mulroney (About Schmidt), Dallas Roberts (3:10 To Yuma), Joe Anderson (Across The Universe), James Badge Dale (upcoming World War Z, HBO's The Pacific), and Nonso Anozie (Conan The Barbarian). The Grey opens January 27th, 2012.