Movie Photos
THE LORDS OF SALEM Teaser Poster and New Images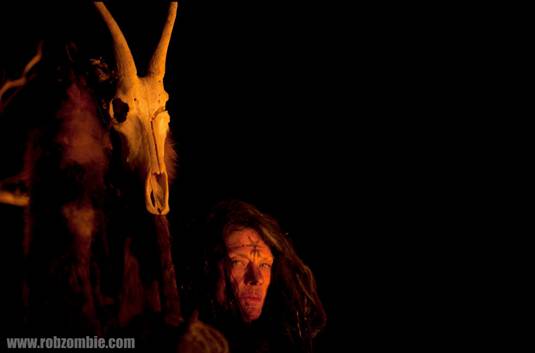 The Lords of Salem was firstly a song on Rob Zombie's third solo album, Educated Horses, from 2006 and then it becomes an upcoming horror film written and directed by the same author.
It is about the titular town of Salem, Massachusetts being visited by a coven of 300 year-old witches. The film started shooting on October 17th, 2011 and is currently in post-production expected to be released sometime in 2012.
Now, Rob Zombie has set free our first look at Meg Foster as Margaret Morgan, the leader of a secret coven of witches in Salem.
Foster is joined by Ernest Thomas, Jeff Daniel Phillips, Torsten Voges, Bruce Davison, Billy Drago, Richard Lynch, Lisa Marie, Maria Conchita Alonso, Ken Foree, Barbara Crampton, Michael Berryman, Sid Haig, Judy Geeson, Sheri Moon Zombie and Patricia Quinn.
Here's the synopsis:
Heidi, a blond rock chick, DJs at a local radio station, and together with the two Hermans (Whitey and Munster) forms part of the "Big H Radio Team." A mysterious wooden box containing a vinyl record arrives for Heidi, a gift of the Lords. She assumes it's a rock band on a mission to spread to spread their word. As Heidi and Whitey play the Lord's record, it starts to play backwards, and Heidi experiences a flashback to a past trauma. Later, White plays the Lord's record, dubbing them the Lords of Salem, and to his surprise, the record plays normally and is a massive hit with his listeners. The arrival of another wooden box from the Lords presents the Big H team with free tickets, posters and records to host a gig in Salem. Soon, Heidi and her cohorts are far from the rock spectacle they're expecting. The original Lords or Salem are returning and they're out for blood.